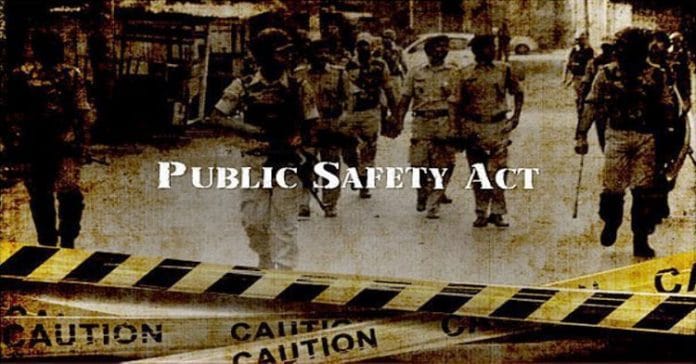 SRINAGAR — At least 16 Public safety Act (PSA) detainees from Kashmir Valley were shifted to Haryana Jails on Tuesday, official sources said.
Official sources said that 16 detainees have been shifted outside Kashmir on Tuesday by the Government of Jammu and Kashmir Union Territory by an Order No. PB-V/585 of 2021; Dated: 2/8/2021. All the 16 detainees were lodged in Central Jail Srinagar from 2019-2020 and 2021.
An order of Home Department from Civil Secretariat Srinagar reads, "The powers conferred under Section 10-B of the Jammu and Kashmir Public Safety Act 1978, the government hereby directs to remove/shift the 16 detainees who have been detained under the provision of Jammu and Kashmir Public Safety Act 1978 from Srinagar Central Jail to Haryana Central Jail and district jail."
Official sources identified the shifted detainees as Dansih Altaf Malik, a resident of Arampora Nawakadal Srinagar; Zahoor Ahmad Parry, a resident of Kan Mohalla of Hajin in Bandipora district; Mohammad Yousuf Ganie, resident of Umar Abad Baramulla; Arif Yousuf Ganie, resident of Kalampora Pulwama; Ghulam Rasool Dar, resident of Gangbugh Srinagar; Umar Fayaz Mir, resident of Nadihal Bandipora; Manzoor Ahmad Sofi, resident of Natipora Srinagar; Mehraj ud Din Ganie, a resident of Tenpore Srinagar were shifted to District Jail Karnal Haryana.
The other eight detainees shifted from Central Jail Srinagar to District Jail Jhajjar Haryana were identified as Junaid Ahmad Dar, resident of Awind Shopian; Sajad Ahmad Bhat resident of Fatehkadal Srinagar; Faizan Akhtar Bhat, resident of Khanyar Srinagar; Bilal Ahmad Wani, resident of Kreeri Baramulla; Nasir Mohiuddin Pahlwan, resident of Jamlatta Srinagar; Mudasir Ahmad Sheikh, resident of HMT Srinagar; Sajad Shahnawaz Mir, resident of Rainawari Srinagar and Arif Ahmad Malla, resident of Habbak Shanpora Srinagar.
The reason has not been given for the move of 16 PSA detainees which comes barely a couple of days ahead of the second anniversary of the Article 370 and bifurcation of the erstwhile state into union territories of Jammu & Kashmir and Ladakh.