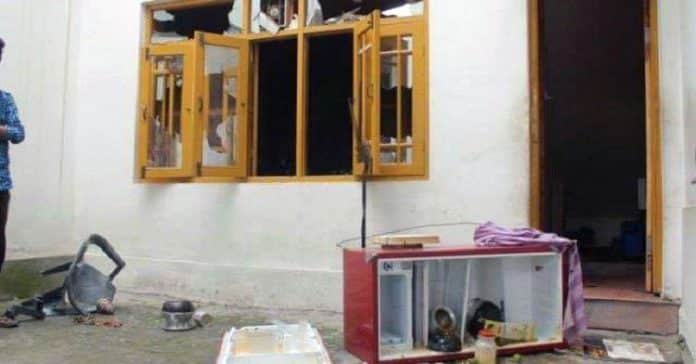 Kulgam: The family of a slain militant Saturday alleged that government forces barged into their house, vandalized property, abused and kicked them and also thrashed the mourners who had gathered in the house to express solidarity with them.
Amir Ahmed Tantray, a resident of Waripora village of south Kashmir's Kulgam district was one among the four militants killed in Arwani Bijbehara area. A large number of mourners and relatives are visiting his house to express sympathies with the bereaved family.
The family members told news agency CNS that on Saturday afternoon, armed men in uniform emerged into the village and thrashed mourners.
"The government forces personnel barged into our house and let loose a reign of terror. They damaged everything that they came across. The gun wielding men in uniform not only abused and kicked us but also targeted mourners, warning them of dire consequences in case they visit the family again," the family members said seeking intervention of local police.
The family members alleged that in a bid to force mourners to vacate from the slain militants house, they fired a couple of rounds in air and too in the premises of house.
"The Forces did it without any provocation. It has become a norm for them to target innocent civilians as they feel they are not accountable before anybody but little are they aware of Divine retribution," said a female member of slain militant's family.
A police official said that they will investigate the matter while another official said that youth pelted stones on a government forces' party in the village. "The Forces personnel chased them away, exercising maximum restraint," he said. (CNS)