Pulwama: The shutdown in the south Kashmir town of Pulwama continued for the 11th day on Sunday. The continuous shutdown is to press for the demand of erecting a memorial for slain militants at the local Mazar-e-Shuhada.
The locals are adamant about their demand to erect a memorial while the district administration is denying permission for the same.
The demand for erecting a memorial arose in the town after the killing of a local LeT militant Manzoor Ahmad along with his Pakistani associate in an encounter.
A day after the encounter the locals marched up to Shaheed Park of the town to erect a hoarding, but police foiled their attempt. This provoked locals who announced that the town would remain shut unless they are allowed to install a memorial at Shaheed Park.
Three days ago, police had released around a dozen arrested youth, but that too failed to make the youths back down.
Members of various trade bodies and officials of the district administration and police also held several rounds of talks, which also failed to break the deadlock.
On Saturday, while the routine business in the town remained suspended, the traders came in support of the demand, saying "authorities have no justification to disallow erection of a signboard carrying nothing objectionable".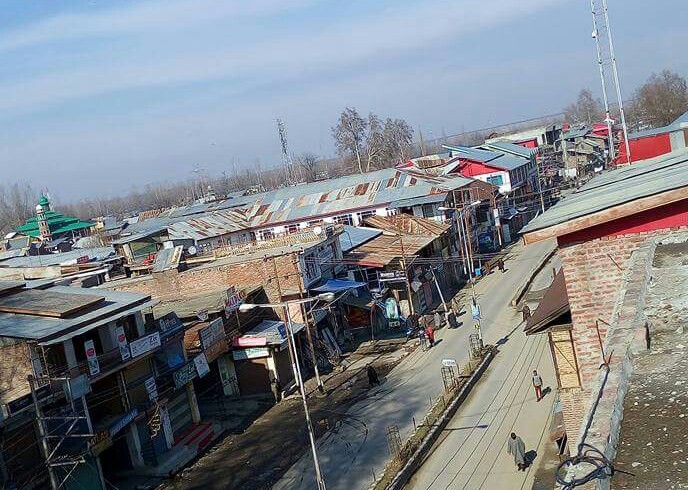 "The signboard that the youths plan to install at Shaheed Park only carries a Quranic verse and a couplet from Iqbal. Such signboards stand installed at every martyrs' graveyard in the Valley, but I wonder why it is not being allowed here," President of Traders Federation, Bashir Ahmad Wani, said.
"Some elements are spreading rumours that the signboard carries pictures of the slain militants and other objectionable stuff, but that is not the case," Wani said.
He added, "The youths have given two days deadline to the authorities for granting permission. After that, the entire town will come out to erect the same."
The Federation also held a meeting of the representatives of various trade unions and Auqaf-i-Islamia at Shaheed Park. Ever since, the town is observing a complete shutdown.