The youth of Jammu & Kashmir are bestowed with abundant talent be it sports, music or any other field and only need an opportunity to excel. In this post, however, we present the Top Five Cartoonists of Kashmir.
The top five list has been prepared keeping in view the popularity of these cartoonists on the one hand and the quality of cartoons in terms of relevance, humour and satire on the other.
There other cartoonists, not listed in this post, are also brilliant but for keeping this list down to five only, we were compelled to keep them out.
It is very easy to feel scared to follow ones heart. But these cartoonists have excelled in the field of their interest and have become what they wanted to be.
Top Five Cartoonists of Kashmir
#1. Mir Suhail
Born on June 25, 1989 in Kawdara, Srinagar, Mir Suhail Ahmad Qadri was is a political cartoonist who is very famous among the young people throughout the valley.
Qadri was born in a family of artists. His grandfather played Saran (Violin) and his cousin was a professional singer, Qadri's entry into art was, but, obvious.
The only twist in the tale was that he did not try to play the 'Saran' or take to singing. Instead, he took up a brush in his hands to paint. This was reason enough for him to attract as much pressure as possible.
Opting for a career that was different from the family's, was a good enough reason for everyone to question him as far his choice of career was concerned. Today, Qadri is the household name of Kashmir and his cartoons always go viral on social networking sites like Twitter & Facebook.
Mir Suhail Qadri studied Commerce at the Senior Secondary level. He graduated from the only Fine Arts college in Kashmir Valley – "Institute of Fine Arts".
Qadri was always passionate about art, he started making cartoons even before he joined college. His career took flight when he signed up with Kashmir Images, a local English daily from Kashmir on a very low salary, where veteran journalist Bashir Manzar groomed him. His next career move took him to Rising Kashmir as a cartoonist.
Four years at Rising Kashmir and one and a half years at Kashmir Images, local daily from Kashmir further refined his skills as a cartoonist. He also worked for Kashmir Reader. He is currently working as cartoonist at "Kashmir Observer" newspaper.
During April 2015 Nepal earthquake, Qadri's cartoon on biased media coverage of Indian media went viral on social networking sites after Nepal social media users slammed mainstream Indian media for insensitive coverage and started a trend on Twitter and Facebook #GoHomeIndianMedia.
In a cartoon, he depicts how India has been using its security forces to quell the freedom sentiment, eerily similar to East India Company's role in India – the British Army did their best efforts to crush the freedom revolt.
One of his more viral cartoons, made last year shows a frame in which a kid is bandaged, blinded in both eyes by pellets, and the other half of the frame shows Mehbooba Mufti with the tricolour wrapped around her eyes.
"The cartoon shows the apathy of the state government and the chief minister towards the suffering of people here," explains Suhail who believes that as the head of the state, and even as a Kashmiri, Mehbooba Mufti should have at least spoken against the civilian killings and the blinding of children and teenagers by pellet guns. "But it's unfortunate that she can't see beyond the flag and her chair which she has held on to despite all these killings."
Apart from cartoons, Suhail also came up with other digital works to evoke the pain and loss of vision among the pellet blinded youth. He put a bandage on one eye in the Mona Lisa painting, on one eye of Mahatma Gandhi's picure and on both eyes of Bhagat Singh's picture, depicting the disfigured state of a pellet blinded person.
Although he's been appreciated for his work by lots of people, even outside the state, he's also received hatred for his Kashmir cartoons. He's been called a 'terrorist' and asked to 'go to Pakistan'.
"You can't label me as a Pakistani when I was born and brought up here in Kashmir and so were my parents and forefathers," he says with a smile. "I'm not going anywhere from here. This is my home."
One of his many achievements include the selection of his sketches for Airports Authority of India's calendar and New Year greeting cards after he won a national competition in the year (2012).
#2. Suhail Naqshbandi
Suhail Naqshbandi is a prominent cartoonist for the leading Kashmir daily Greater Kashmir.
Like Mir Suhail, Suhail Naqshbandi has been reflecting the life of Kashmiris with incisive cartoons replete with dark humour. He is, therefore, at #2 in our Top Five Cartoonists of Kashmir.
"When I started off as the first cartoonist of this newspaper, he (my father) was the happiest man around, for the sheer fact that I was able to carry forward one aspect of his personality forward. He would offer me unique critique of my work. Those lessons were for life." writes Suhail in an Opinion article for Greater Kashmir.
He moved back to Kashmir last year after several years of working in Delhi.
Many aspects of the last year's siege in Kashmir are reflected in his cartoons. One of his viral scathing cartoons, made last year for Greater Kashmir shows a frame in which Chief Minister Mehbooba Mufti is shown leading a group of children, bandaged and blinded by pellets, towards a 'dark future'.
Another popular cartoon he made shows the ex-chief minister, Omar Abdullah, and the present chief minister with a dead man lying in front of them, alternately accusing each other of killing people in 2010 and 2016 civil uprising.
#3. Bashir Ahmad Bashir
In 1975 when the erstwhile Chief Minister of Jammu and Kashmir, Sheikh Mohammad Abdullah returned Kashmir after signing the much-touted and equally talked about Indira-Abdullah accord, scores of his followers back home felt "cheated" and "disappointed".
It was during that period a cartoonist of a Srinagar daily gave vent to the public feelings through his cartoon which fell like a bombshell on state political arena. The cartoon managed to deliver the 'loaded message' behind Abdullah's handshake with New Delhi. And thus, a name: Bashir Ahmad Bashir (BAB) created a special niche for himself in the field of creative display of news. And with that, began a period that witnessed BAB's cartoons hitting state of affairs left, right and centre—that too, quite fearlessly.
Forty odd years have passed since then, but BAB is still tirelessly running his hands on papers every evening to sketch out cartoons, which 'mirror' the society.
Living in a quiet Bachwara locality at Srinagar's Dalgate area, BAB recalls, when Sheikh Abdullah returned to valley after signing 1975 accord, people were angry "as they believe Sheikh can't sell us to India". He says, people felt ditched by the senior Abdullah who himself was fighting for the "independence of Kashmir" from Indian rule before signing the deal.
BAB gauged the public mood and made a cartoon that showed Sheikh Abdullah heading towards the chair, while a grave at his background engraved with 'Liberation Front'—cries out: 'Meri kahani bhoolne wale, tera jahan aabaad rahe.' (O' you, who forget my tale; may your world prosper).
The cartoon instantly evoked public emotions, as many believed: "It is cry of martyrs, who laid their life for supporting Abdullah led Plebiscite Movement that was fighting against Indian rule in Jammu and Kashmir." BAB was hailed for his efforts, and with that, BAB became the sensational cartoonist of the valley.
Having friendly attitude, BAB, a clean-shaved man in his late-fifties entered in the Srinagar Times in 1969 and helped the paper to edit reports and letters to the editor. He hadn't exactly planned to be a cartoonist but one day his brother and founder of the Srinagar Times, Sofi Ghulam Mohammad, told him: "I think we should introduce something new in our newspaper."
BAB wasn't naysayer to the idea, but he took his time. Then in 1971, the introduction of that new thing left the readers of Srinagar Times pleasantly surprised. The paper had carried a caricature of Sheikh Abdullah in its mid page. And reportedly, it was the first ever cartoon in the journalistic history of Kashmir.
But what was pure creative expression for BAB soon invited him threatening calls. He was buzzed with the first threat call during Sadiq's regime in Jammu and Kashmir (1964-71). "It was the elections period and Sadiq's loyalty to India was quite overt," recalls BAB, sporting silver coloured hair.
"I drew a caricature that showed voters of Jan Sangh, Jamaat-e-Islami, National Conference, Congress and other parties putting their votes into a magic (ballot) box." But the cartoon showed only Congress votes coming from the bottom side of ballot box. The message couldn't have been more direct to Congress which was left badly irked by BAB's creative display. And soon, a stern action ensued.
"We were dragged to courtroom and our paper Srinagar Times was banned for two months," he recalls. "But we never dropped the chips," BAB says. "Had we succumbed to pressure tactics then, our paper would have been a history today."
With Abdullah as chief minister of state in 1981, BAB again created a storm of sorts. During one occasion then, Jammu and Kashmir Assembly members got involved into verbal duel "where members spoke rude language and torn each other's clothes". The next day, BAB's cartoon described MLAs, as—Monkeys, Lambs and Asses, involved in fight inside the legislature.
With times, BAB's cartoons had created an everlasting effect on people. Today Kashmir's gen-next is eyeing the same field which he has been serving for last four decades. However, he believes youngsters have still miles to go before they could learn to hit nail on its head. "But with the passage of time, they will evolve and draw cartoons that mirror the state of affairs from the perspective of common masses," he says.
BAB is keenly interested in playing golf. "The advantage of playing golf is that one can immerse into thoughts and ideas while playing golf," he says. "I have also interviewed Dr Farooq Abdullah many times while playing golf."
He has won number of awards, including British Journal Critics Award, Gold Medal by Jammu and Kashmir Editors Foundation and others. He was once nominated for Padma Shree Award but that never came his way, BAB recalls, "They took my biodata and I was told to get ready for the ceremony. However, the award was never given to me. Since I was critical to the policies of the government, therefore, I do not rule out political interference."
BAB usually takes an hour or two for drawing a cartoon. Sometimes, he has to let go of many of his ideas. The subject that clicks his mind during the day becomes obsolete by evening. "But the challenge for me is to draw the cartoon around the latest news, as people expect cartoon on a particular subject," says BAB, whose two sons are also in journalism field.
Apart from being a cartoonist, he took on as the editor of his daily after the death of his elder brother, Sofi Ghulam Mohammad. BAB says, as an editor, his challenge is to maintain the content and editorial policy which has been the hallmark of Srinagar Times.
#4. Malik Sajad
Cartoonist and artist Malik Sajad, #4 in our Top Five Cartoonists of Kashmir, started working as political cartoonist for Great Kashmir newspaper in Srinagar since he was 14 years old.
The 29-year-old from Batamaloo, with the face of a teenager, has studied in London for his masters' degree in image and communication at the prestigious Goldsmiths College, where Indian graphic novelist Sarnath Banerjee was a student earlier. Sajad graduated from Institute of Music and Fine Art in Srinagar.
The cartoonist, who produced a graphic novel on the life in Kashmir – Munnu, had exhibited his cartoons and an installation, called Endangered Species, during the Second South Asian Literature Festival in London in October.
A remarkable and important graphic novel, Munnu offers an alternative history of Kashmir, specifically Srinagar, drawing on the author's life to tell the story of Munnu as he grows up to become Sajad.
The black and white cartoons and installations depict the reality of life for young Kashmir through a human with the head of Hangul, an endangered deer found only in Kashmir, who is just a witness to the life, without speaking.
The influence of classic graphic novel Maus, by Art Speigelman, is heavy on Sajad's work and he credits Kashmiri writer and journalist Basharat Peer for mentoring him and helping widen his artistic horizons by buying him books and graphic novels. He also credits Kashmiri writer and filmmaker Abir Bazaz with inspiring him intellectually.
Sajad, son of an embroidery designer, took to art very early in childhood, initially just to emulate his father. However, his skill of drawing caricatures soon pushed him towards contributing drawings and cartoons for the children's pages in the local newspapers. He explains the jump from the children's page to the front page as a political cartoonist by pointing out that the children in Kashmir become politicised at a very young age due to the circumstances in the region.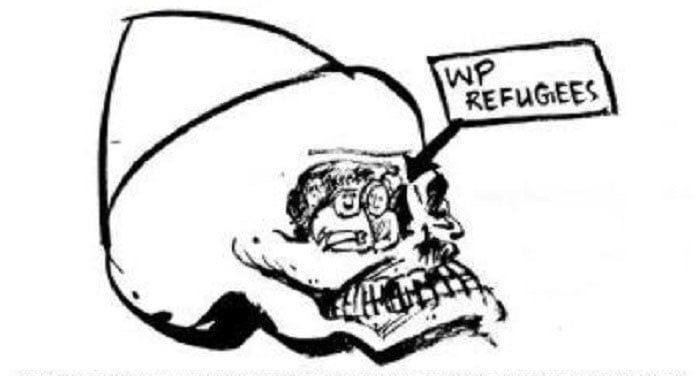 The cartoonist, who was born in 1987, is keen to revive the lost forms of art and culture of the Valley.
Sajad, with like-minded Kashmiri youth, wants to revive and update local art and cultural forms, which are rapidly fading away in Kashmir.
"I want to revive the artistic heritage, the cultural heritage, that my generation has lost touch with," says Sajad, who has exhibited his art work and installations in many cities in India.
His work as a cartoonist, however, has influenced him in using just black ink, instead of colours in his artistic work. "When I use colour, I feel it confines my imagination and that of the reader," he says.
Sajad, the youngest sibling in his family, is impressed by the cultural vitality of London and wants recreate that in Srinagar. He has also documented the neglect and destruction of historic architecture and the wooden bridges on the Jhelum river in photographs and paintings.
#5. Aaishan Khan
Born in 1996, Aaishan has started publishing his cartoons on WithKashmir.Com which is "a network of opinionated bloggers of Kashmir and allies around the world".
Interestingly, Aaishan, who lives in Shah Faisal Colony, Soura is also pursuing CA while continuing to produce cartoons and painting arts.
He has studied Commerce at Government Boys Higher Secondary School, Soura while his earlier schooling was done at Radiant Public School, Srinagar.
He prefers colourful cartoons and produces awesome cartoons full of satire and humour.
Note: We have compiled the text excerpts from various sources including Wikipedia, The Wire, The Kashmir Walla, DNA India and Greater Kashmir.