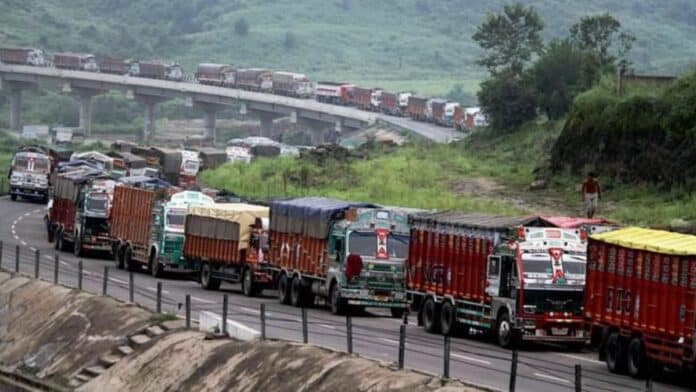 SRINAGAR — Over ten thousand vehicles including 8820 fruit-laden trucks have crossed the Jawahar Tunnel and are heading towards Jammu region during the past 24 hours, officials said here on Monday.
Information & PR Department J&K, while confirming the development, tweeted: "Over 10000 HMVs including 8820 fruit laden trucks released through Navyug and Jawahar Tunnels during the past 24 hours."
It further said that Chief Secretary compliments all functionaries and asks them to keep up the momentum.
Notably, in a marathon meeting held on Sunday to take stock of traffic movement on the Srinagar-Jammu National Highway, Chief Secretary, Dr Arun Kumar Mehta impressed upon the concerned traffic authorities to clear the stranded traffic within 24 hours and certify the same at the earliest.
The Chief Secretary had directed the Traffic Department to formulate a viable plan for the smooth movement of traffic on the highway in association with fruit growers. He asked them to ensure that the fruit-laden trucks leaving from the Valley should reach their destinations by taking appropriate time without any undue delay.
Dr Mehta urged them to submit daily reports to his office about the travel time and the number of vehicles reaching Jammu or Srinagar, leaving from opposite directions.
He enjoined upon them to publish daily the number of vehicles stranded including place and reasons thereof. He asked them to simultaneously give the time required for the restoration of the normal traffic on this road.
The traffic management authorities were asked to augment manpower from all sources to regulate traffic efficiently. He stressed enforcing lane discipline on this highway, especially on critical stretches between Banihal and Ramban. He underscored the need of ensuring that no roadside parking is allowed except at designated parking spaces only.