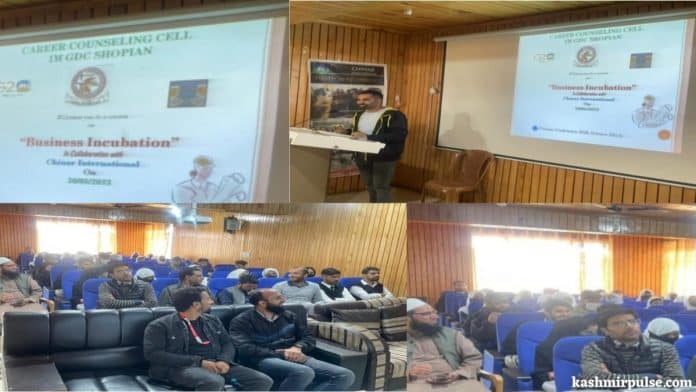 SHOPIAN — The Career Counseling Cell of Government Degree College (GDC) Shopian, in collaboration with Chinar International, a subsidiary of Tata Institute of Social Sciences (TISS), on Tuesday successfully organized a workshop on Business Incubation.
The event, held at the conference hall of the science block, aimed to equip students with valuable insights into developing business ideas, building capacity, and accessing financial assistance.
The workshop witnessed a vibrant participation of students and faculty members who eagerly engaged in the session. Mr. Zafar Iqbal, the Program Coordinator of Youth Development at Chinar International, brought a wealth of experience and expertise in entrepreneurship, delivering a captivating and insightful presentation on the theme of business incubation.
During his address, Mr. Iqbal emphasized the importance of nurturing an entrepreneurial spirit among students. He discussed various strategies to transform innovative ideas into sustainable businesses, shedding light on the significance of business incubation in creating an enabling environment for young entrepreneurs. The session also explored the availability of capacity-building resources and financial assistance programs to support students throughout their entrepreneurial journey.
The workshop provided an interactive platform for participants to engage in meaningful discussions, share their ideas, and seek guidance from Mr. Iqbal. Attendees gained valuable insights into practical aspects of business incubation, including market research, product development, marketing strategies, and funding opportunities.
The event exemplified the commitment of the Career Counseling Cell at GDC Shopian to foster an entrepreneurial culture among students and equip them with the necessary skills and knowledge to succeed in their chosen career paths. The collaboration with Chinar International, renowned for its dedication to youth development and entrepreneurship, added immense value to the workshop.
The program was moderated by Prof Mushtaq Ahmad Malik, Co-Convenor of Career Counseling, and concluded with a vote of thanks presented by Dr. Showkat Ahmad Ganie, a member of the Career Counseling Cell.
The workshop on Business Incubation served as a stepping stone for students at GDC Shopian, empowering them with the tools and guidance needed to realize their entrepreneurial aspirations and contribute to the economic growth of the region.