Dehradun: Kashmir's rich culture & heritage couture was recently showcased in Dehradun during India Couture Lifestyle Fashion Week 2018.
Fashion designer, Shahid Rashid Bhat portrayed Kashmir in all its glory and sheen during the event that took place at Hotel Madhuban, Dehradun.
Splendid line of high couture fashion celebrated gala showcasing with distinct designs and trend-setting looks that took direction to chart through contemporary and global course of high couture fashion.
The two-day long fashion extravaganza remained high on fashion finesse with play of colors, fabric, silhouettes and beautiful makeovers.
Organized by Vibhor Gupta and Gaurav Gupta from VG Fashion Entertainment, the event witnessed participation of models, designers, ace makeover experts and buyers from all over India.
Veteran designers were roped in to dress inspiration from vast world of fashion and distinct sensibility of culture of India.
Shahid, a well know designer from Kashmir valley showcased designs that offered a phenomenal view of Kashmir's rich culture of hand works.
Shahid, known for his work in mixing culture and punk wear, also runs an online brand SRB Style Statement which was launched in March 2017. 18 dresses of Shahid's collection "NAYAAB", tastefully tailored dresses with dramatic volume offering a mix of glitzy attires, were presented to the audience. These dresses bought out the colours of Kashmir.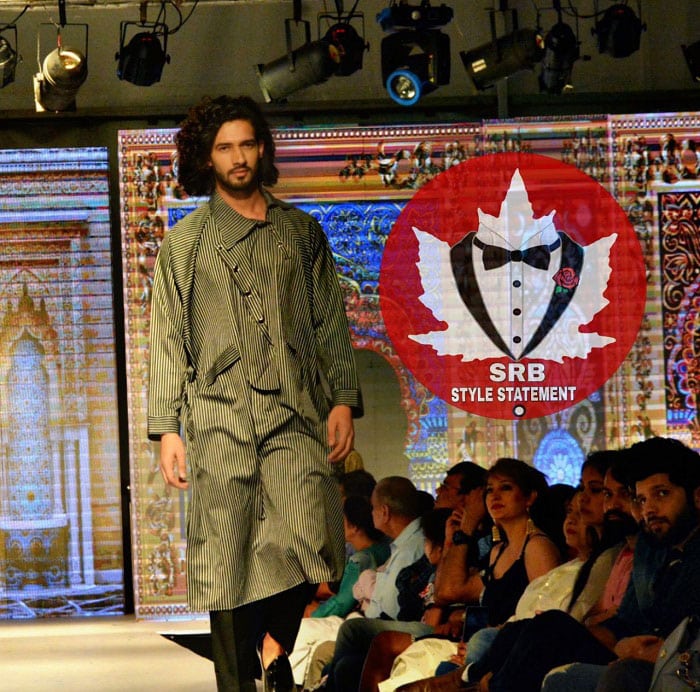 The dresses included Kashmiri pherans, kurtas and jackets which had Kashmiri hand work on them.
Other designers who showcased their designs included celebrity designers like Nick Roshan, Khushbu Davaray, Kingshuk Bhaduri, Nitin Singh and celebrity designers Anjalee and Arjun Kapoor.
Show reached its crescendo with glamorous models walking up the ramp. Super models Jatin Khirbt, Saud Khan, Shahnawaz, Aasim and Dushyant added glam quotient to the event.
Over 60 models from Delhi, Mumbai, Dehradoon and Rurkie walked up the ramp. Super model Deepti Gujral and Bollywood actress Anushka Ranjan were show-stoppers.
Show was directed by Shie Lobo and Kapil Gauhri was the choreographer. Designers from all over India showcased several designs by renowned fashion designers from Mumbai, Delhi, Surat, Kashmir, Assam and Dehradun.
Mohsin Andrabi who is the co-founder and Managing Director of SRB Style Statment talking to the media after the show said, "Our brand represents Kashmir. We are trying our part in bringing the Kashmiri attire on the world map. We have a culture which is worth showing to the whole world. Our projects are based on handloom and other ethinic arts of Kashmir. We feel it as a privilege and honour to represent our Kashmir".
Mohsin added, "Shahid's designs were loved by the audience and were highly appreciated. The designs put a great impact of culture and rich art of Kashmir on the audience".
He further added, "We are on a mission to give a new life to the dying art. While the youth are attracted to the western dresses, we are offering something which is ethnic and has a modern blend in it."
While Rumi Nazir, media coordinator said that this was just a beginning and they will be participating in many upcoming national and international events to put Kashmiri art before the world. She said, 'It is the need of the hour to address our dying culture and our company's participation in the show is a beginning of reviving the art".