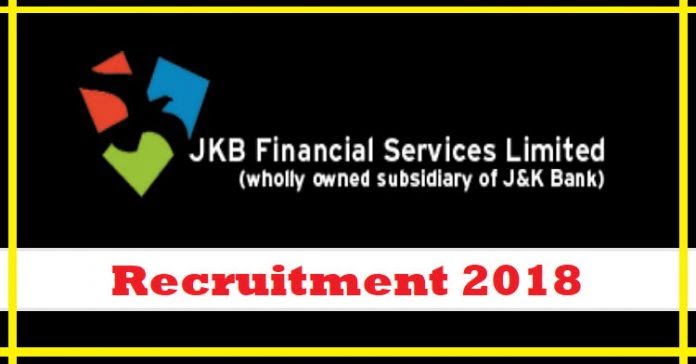 Srinagar: JKB Financial Services Limited, a wholly owned subsidiary of J&K Bank has announced the JKB Financial Services Recruitment 2018 for 112 RE & Other Posts.
JKB Financial Services with the objective of providing Capital Market, Wealth Management and Allied Financial Service products, therefore, invites Online Applications for the following posts positioned at its Corporate Office in Srinagar and Branch Offices in Jammu & Kashmir.
S. No.
Position
Location & No. of Open Positions
1.
Head Business Development
Srinagar – 1
2.
Head Human Resource Management
Srinagar – 1
3.
Head Information Technology
Srinagar – 1
4.
Relationship Managers
Jammu – 3
Kashmir – 5
5.
IT Executive
Srinagar – 1
6.
Human Resource Executives
Srinagar – 2
7.
Executive Assistant to the Managing Director
Srinagar – 1
8.
Relationship Executives
Across J&K – 60
9.
Processors
Jammu – 10
Srinagar – 9
10.
Dealers
Jammu – 5
Srinagar – 5
11.
Risk Management, Clearing & Settlement Executives
Srinagar – 4
Jammu – 1
12.
Manager – Accounting / Finance / Compliance & Reconciliation
Srinagar – 1
13.
Finance & Accounts Executive
Srinagar – 1
14.
Compliance Executive
Srinagar – 1
The number of positions mentioned above are provisional and may vary according to the actual requirement of the Company.
The important dates concerning the JKB Financial Services Recruitment 2018 for 112 RE & Other Posts are as follows:
| | |
| --- | --- |
| Event | Date |
| Registration on website and payment of fee | From 16-07-2018 to 31-07-2018 (Both days inclusive) |
Interested candidates who want to apply for this recruitment process should note the following details:
01. The applicant candidate should be Permanent Resident of J&K State.
02. A candidate can apply for more than one position separately subject to fulfilling the eligibility criteria and payment of fees.
03. Educational qualification should be from a recognised university / Institute (UGC / AICTE approved) & the results should have been declared on or before 01-07-2018.
Online Registration & Payment of Fee: The eligible candidates are required to apply online through the company's website – www.jkbfsl.com. No other means / mode of Application / Registration will be accepted. Candidates should have a valid personal e-mail ID which should be functional till the completion of this recruitment process.
Step-wise Guidelines for filing Online Applications: Candidates are required to visit the company's website at https://recruitment.jkbfsl.com and apply for the relevant post.
Step I: Candidate shall fill application form online and shall obtain Registration Number.
Step 2: Subsequent to the registration, the candidate shall be required to make payment of requisite fee (Rs. 500/- for General Category & Rs. 250/- for Schedule Caste (SC) and Schedule Tribe (ST) Category). The link for the payment of fee shall be provided on the website of the company.
Applying online for registration without making necessary payment, application will be summarily rejected.
The employment through JKB Financial Services Recruitment 2018 for 112 RE & Other Posts is purely of contractual nature for a period of three years against consolidated pay.
Selection Procedure: Selection will be based on Shortlisting and one or more rounds of Personal Interview. Mere fulfilling minimum qualification and experience will not vest any rights in candidate for being called for Interview. The shortlisting committee constituted by the Company will decide the shortlisting parameters and thereafter, adequate number of candidates, as decided by the Company will be shortlisted for interview.
The decision of the Company to call the candidates for the Interview shall be final. No correspondence will be entertained in this regard.
Any false / incorrect information will lead to immediate disqualification of the candidate and will also disqualify him for applying for any posts to be advertised by the Company & J&K Bank in future.
For the detailed advertisement specifying job descriptions, eligibility and compensation for different positions, please visit the official website of JKB Financial Services Limited.