Dehradun: Hundreds of Kashmiri students this evening staged a protest demonstration and held a candlelight vigil under the banner of J&K Students' Association in solidarity with the eight-year-old nomadic girl Asifa, who was first raped and then killed in Rasana, Hiranagar village of Jammu Kashmir's Kathua district. The students demanded justice for Asifa.
"The protest was supported by a galaxy of student organizations including National Students Union of India (NSUI), Student Federation of India, All Manipur Students Union. Apart from Kashmiris, students from various institutes belonging to different regions and religions also participated in the protest demanding that the culprits be hanged," a press statement said.
The march, which started from Gandhi Park Dehradun and ended at Ganta Ghar Dehradun, witnessed a huge participation of students.
Hundreds of students gathered at Ganta Ghar Dehradun, holding placards which read "Justice For Asifa", "Hang The Killers", "Hang The Rapists" et cetera.
Students while raising slogans demanded punishment to the perpetrators of this heinous crime.
The protesting students said that the candlelight march was aimed to draw attention to violence against women all over the world, adding, the modesty of women should be respected.
Coordinator of J&K Students Association, Nasir Khuehami said that the act has shaken whole humanity and has made everyone's head hung in shame. He said that the way rapists are being supported is very unfortunate and has exceeded the limit of words for being condemned.
He, while condemning the act, said that the lawyers of Jammu Bar Court Association have crushed the law under their own feet. He demanded FIR against Bar President, B. S. Salathia.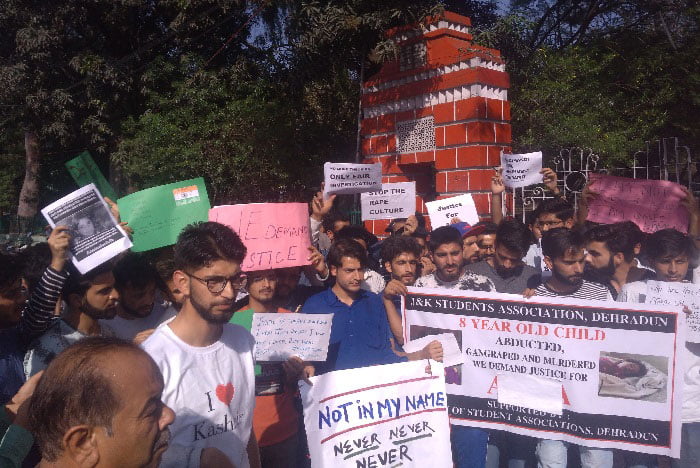 Menakshi Thakur, another activist said that the way Bollywood celebrities have started to raise voice against this rape and murder case is highly appreciated. She said that the rapists must be hanged and all those involved must be brought to justice.
The government should act on the atrocities against the women in the country, another activist Mushtaq Ahmad said.
Faisal Sidiqi, another activist from Bijnor, Uttar Pradesh said that police should book all those political leaders and lawyers which supported the rapists and murderers of the child.
The agitated students lashed out at Jammu Bar for allegedly hampering the efforts of Crime Branch of J&K Police to bring culprits of the crime to the book while demanding FIR against Bar President, B. S. Salathia.